Much more efficient than a few standalone applications
Get new contacts, important information and elegantly simple email marketing.
Try Quanda for free for 14 days
We automate activities that cannot be done manually or that no one wants to do manually.
KEY TOOLS
Emails
Fast, secure and reliable delivery of bulk and transactional emails.
Find out more
Automations
Let Quandu work for you. You will find automation in e-mails, questionnaires, forms and contacts.
Find out more
Surveys
Feedback for further development of your services, products and marketing communications.
Find out more
Segmentations
Professional contact segmentations for precise targeting of your communication and higher efficiency.
Web forms
Web forms without programming, in minutes on your site.
Find out more
Integration and API
Every day, it saves our customers a lot of time and simplifies working with Quanda.
Find out more
EMAIL MARKETING
Beautiful responsive emails in few minutes.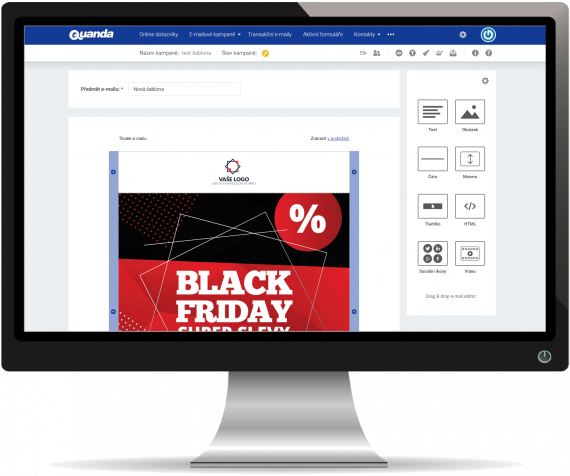 We send and deliver millions of emails every month. We will deliver yours reliably as well.
In Quanda you will find everything you need for your email marketing. Whether it's sending your regular newsletters, email series, campaigns with A / B testing, or sending automatic wishes for an anniversary or birthday.
WEB FORMS
Simple tool for creating web forms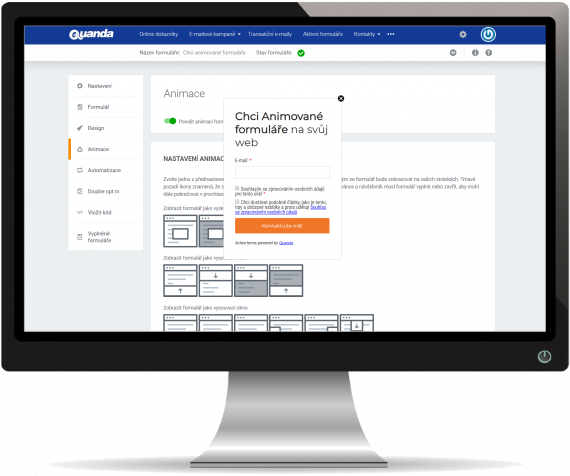 Using the form editor, you can easily design the content and appearance of forms that you can easily place on your website without any programming.
Active forms on your website can jump out, slide out or be fixed in one spot directly on your pages without any programming. They are designed according to your wishes. You can easily link your forms to the auto-responders and e-mail series.
ONLINE SURVEYS
Professional tool for creating online surveys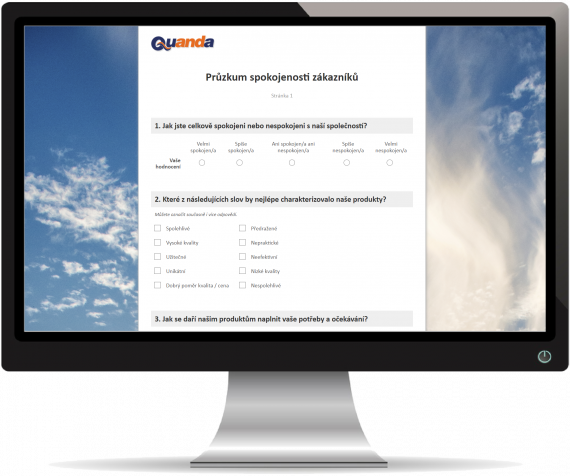 Online surveys allow you to create, send and analyze even the most complicated online questionnaire or survey.
Thanks to the library of questionnaires, you can immediately send out questionnaires of satisfaction to your customers or employees and receive feedback about quality, get information needed for planning company or customer events, and much more.
INTEGRATION AND API
Get your work done easier.
Connect Quanda with your website, e-shop or another system and automate the communitaton.
Focused on B2B, services and personal selling
If you do not sell 100% through the e-shop, you are in the right place!
B2B
Option number 1 when selling to businesses. Regular communication for the development of cooperation. Ongoing evaluation and feedback.
Brokers & Realtors
Regular communication before and after the conclusion of the contract. Anniversaries, holidays, feedback and new contacts from the web.
Wholesale & Retail
Quick introduction of new items in stock, automatic e-mails for events and discounts. Feedback questionnaires.
Sales and service of cars
Presentation of news and sales events simply by mass e-mail. Presentation of seasonal services and service.
Travel agencies
Get thousands of new contacts from the web. Sell via emails. Get reviews and tips to improve your service.
Education
Get new contacts from the web and make appointments easier. Fill in the missing participants of the events.
Services
Make one-time purchases repeatable. Develop relationships through regular communication. Show off your results.
Production and sale
Don't let your customers go to the competition. Remind your services, introduce products. Develop long-term relationships.
Consulting
Find new customers and build a long-term relationship with them. Find feedback for further development of cooperation.