6 campaign types for your effective email marketing
Simple e-mail campaings
With custom template management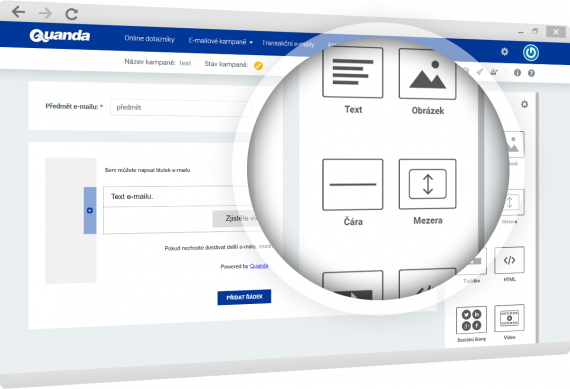 simple text editor
simple button maker
personalization of e-mails by use of merge fields
simple work with pictures
web, email and speed dial links
extensive support for social networks
E-mail campaigns with A / B testing
A few extra clicks. Big difference in results.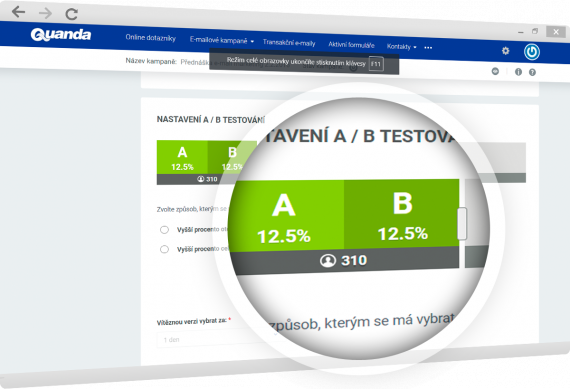 an intuitive and simple interface for selecting recipient groups to send testing e-mails
4 criteria for selecting the winning variation
simple setup of time for the selection of the winning variation
immediate or scheduled sending
Automated e-mail series
Regular communication without worries.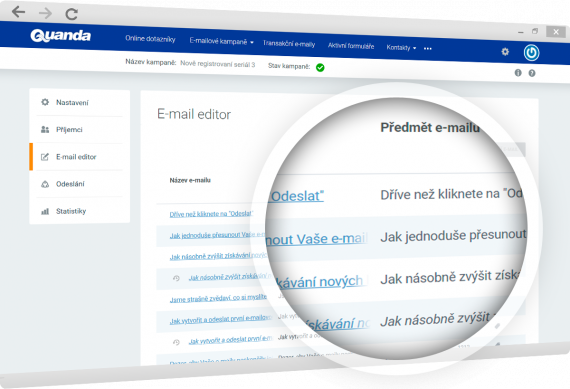 up to 150 episodes in one series
easy management of each series and episode
drag & drop settings of order of individual episodes
easy editing of individual episodes even during sending
encryption of individual episodes during changes
Automated birthday e-mails
So you never forget the birthday of your clients again.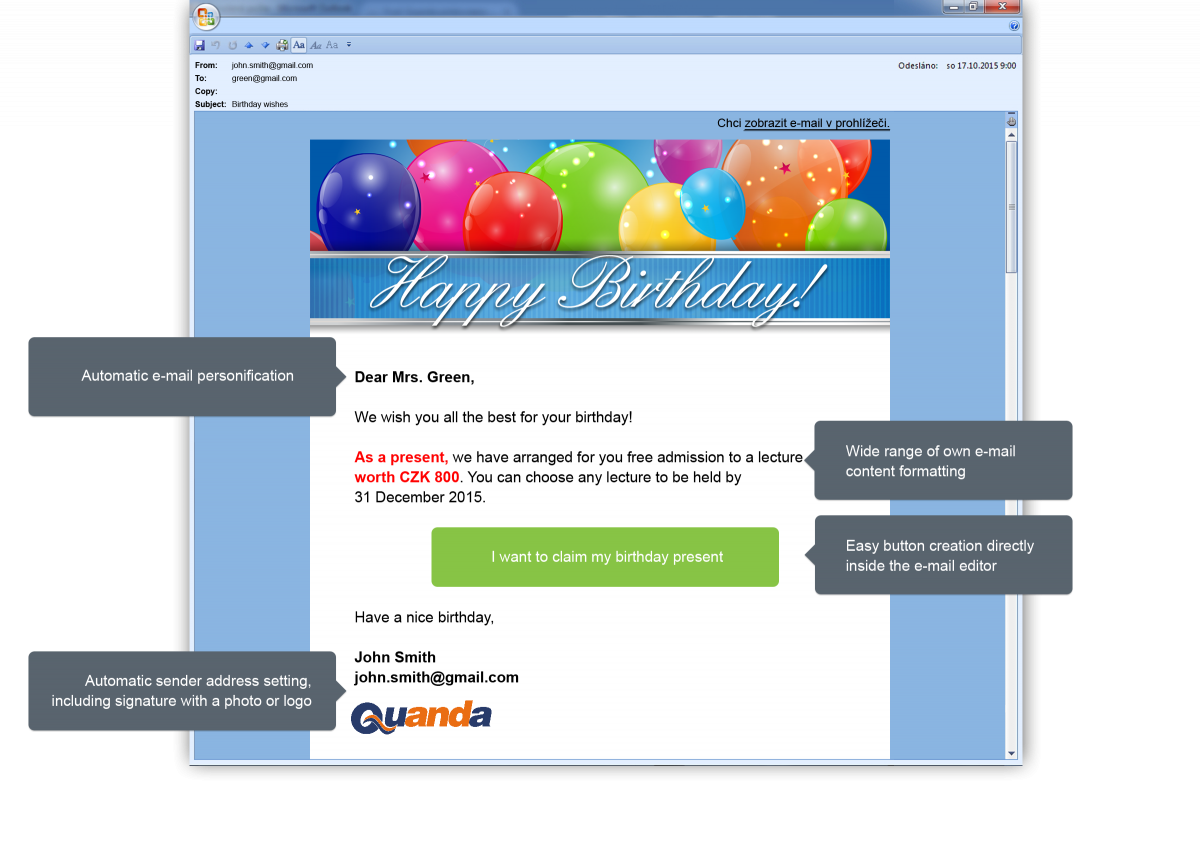 Automated anniversary e-mails
Make your customers happy.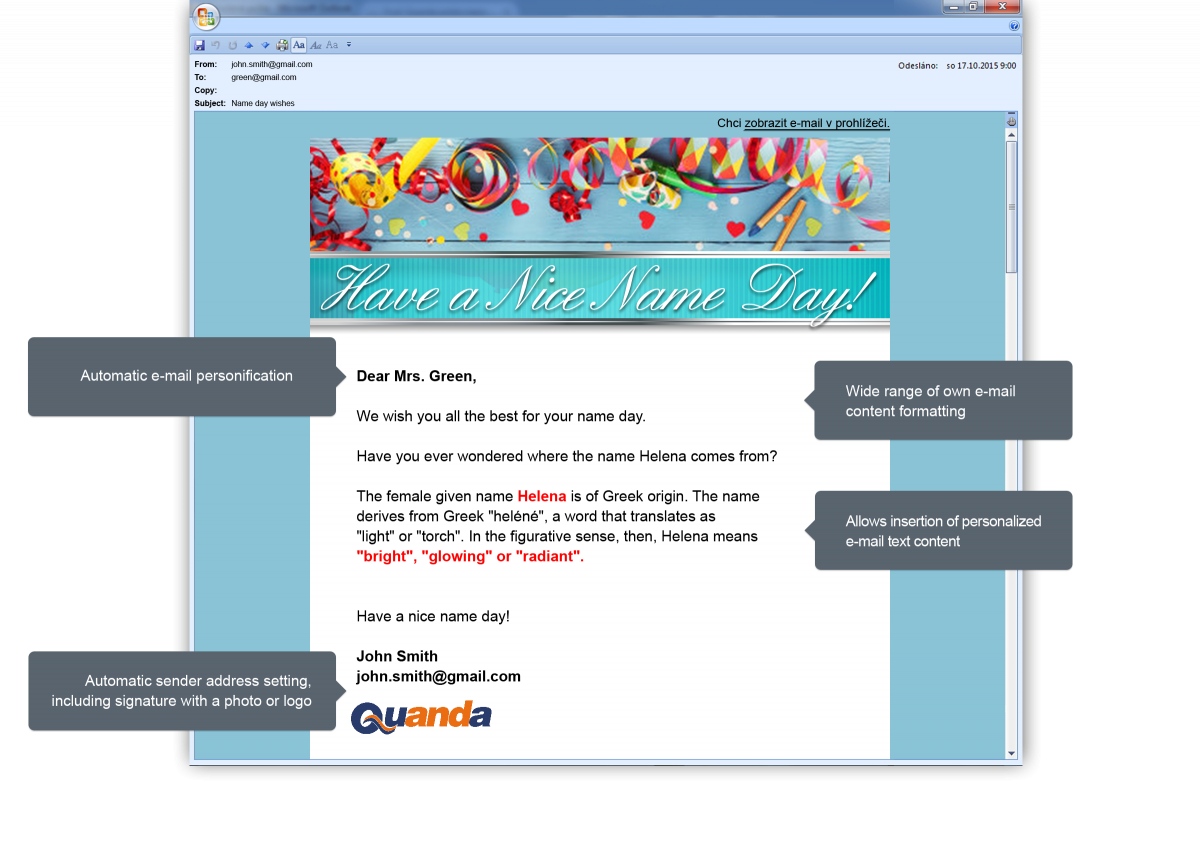 Advanced e-mail campaigns
Sending according to recipients' responses.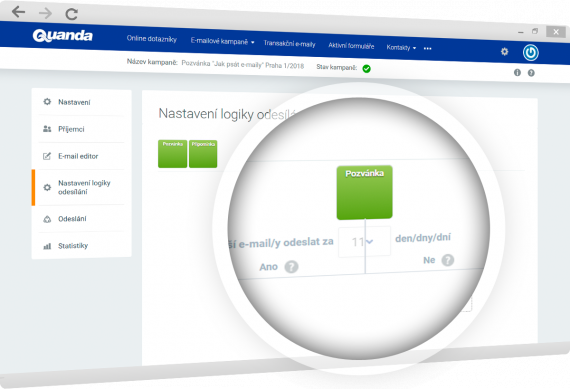 up to three levels of conditioned e-mail sending
up to 7 interlinked e-mails
automatic sorting into groups according to click-throughs on any of the links which appear in the e-mail
automatic sending at scheduled times
MAIN FEATURES
Simple use without large manuals and long training
Simple contact import
Simple detailed tool to import your contacts from anywhere.
A / B testing of e-mail campaigns
Great tool for increasing the efficiency of your e-mail campaigns.
Custom designed templates
Your e-mails will look great and exactly fit your needs.


E-mails testing for SPAM
Thanks to SPAM tests, you will always know in advance what to beware of.
Send personal
e-mails
Salutation in the e-mail subject or body. Automatic personalization of content.
Simple scheduling of sending
For each campaign, schedule the sending day and time easily.
Automatic sender assignment
Send your e-mail campaigns from several sites at once.


Detailed information about the performance
You will always have a perfect overview of the results for each campaign.